I am creating a film about the Javea fire and the amazing stories it created. For you, a great chance to make an exceptional, effective advert, that will be viewed by the future customers of the sponsor of this wonderful project.
Story of the Film (Screenplay and Storyboard)
In the international community of this area – the biggest story of the last few years is the fire in Javea. I want to talk about the story of the fire.
In my film I want to talk about the speed (how fast it all happened), the fear, the disbelief.
The danger….
With 22 helicopters and airplanes and 63 vehicles, 300+ firemen the fire continued to grow and was totally out of control even two days later.
I want to tell the story of the bravery of the firefighters – most of them volunteers – and despite the furiousity of the fire nearly no houses were damaged. So much property was saved.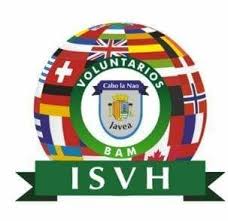 [This project is supported by the voluntary firefighters of Javea.]
The community came together. No matter of what nationality, what color, what language. Facebook and the other social media were alive with offers of accommodation for those evacuated and offers of support and help.
After the fire there was the devastation and the destruction.
And the sadness to see wonderful trees and forests and wooden areas, that took hundreds of years to grow. Smoldering into black, dark destruction.
The animals of these forests lost their home. A lot of them died in the fire – in panic and in pain.
The town hall and the government then begin cutting down thousands of trees – not hundreds – but thousands. They were unsafe – so they had to do it.
But there was more disaster and more sadness.
And then there was a new story: something that makes people smile and some people even cry. One man (Miguel García) for no financial gain creates something from nothing – out of the ashes carving beautiful wooden sculptures out of the burnt smoldering tree stumps. New creations day after day.
The fire – the great fire – showing we all work together we all come together – we are a community, still very human and some people make beauty from nothing. It is touching, because we know deep inside, that every down has an up – out of a huge catastrophe something can grow that makes us stronger and better. Out of the ashes comes the Phoenix. Miguel wants to create a Phoenix Sculpture just for the film.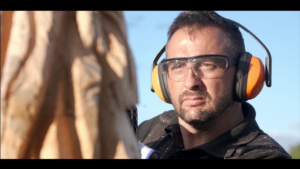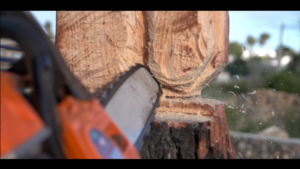 I named my film project after the Greek mythology of the phoenix-bird that rises out of the ashes. This story is intended to make people feel happy and good.
The film will be released in social media and have thousands or maybe tens of thousands of views. It is also a chance for a business to sponsor this video and benefit from a unique and effective advertising opportunity.
If you or somebody you know is interested: just call / WhatsApp or email me: Diane: +4915227682210 / dg@1minute-pr.de.
More About Project: "Phoenix" – Your Chance to Address Your Future Customers
(VIRAL distribution)
I think if we create this video and tell the story, it will be seen by everyone in the international community. It will be forwarded and liked by tens of thousands of people.
This video has a great potential to multiply itself by viral effect. It will be seen, liked and positively recognized by recommendations via social media by the whole community here in Javea and even further – to all the relatives, friends and network of the people living here.
Because it is their story – because it is so nice to share something good, uplifting and even interesting. People also love to know, that they not live in isolation (maybe an impression you get, when living a day to day life). There are people, neighbors out there, that care about you – there is a community feeling and they care they experienced, during this catastrophe. And it is important to remind people if this.
(PUSH Distribution)
I will interest local radio, newspapers, TV and online journalists to publish it or write about it, speak to local institutions (town / halls adjuntamento, firefighters, schools, etc.) and I think they are willing to ad the video to their aps , websites, newsletters, tourist centers, etc. And maybe most important – push postings in every social media that are relevant. I am sure that the community manager of Javea connect will support and push the video and Javea connect alone has over 20,000 active members…
I think it is realistic to reach more than 100,000 people with this video. All of them have a connection with this area.
If you understand this great chance of unique advertising – just call / WhatsApp or email me: Diane: +4915227682210 / dg@1minute-pr.de.
 

Your Benefit as a Sponsor
Let me explain the reasons why I think the sponsorship of this video might be of interest and benefit:
Everybody who wants to sell something – whether products or services – tries to be different and outstanding, so that people

remember

the company.

By their company building, their car, the way they dress and their advertisements… By being perceived in combination with this video – people WILL remember your business, because this film is so unique.

The content of this video is relevant, because they all experienced the fire and have stories connected with it.

Emotions, personal experiences, and stories are factors that create lasting memories.

Because of this, your company will stick in the mind of your potential customers.
To address many people with your marketing in this area you might have a language problem.

There are the Dutch, but also the English, Germans, Russians even Chinese.

So every marketing tool: prospects, website, mailings, everything should have a confusing menu of all the different many languages…
This film works with pictures and music and it is understandable by everyone – no matter what language he or she speaks.

It is thereby also multifunctional and can be used for nearly everything you do in marketing.

It will be upgrading the efforts you are already making: You could ad it to nearly all of your marketing tools: Website, Facebook, exhibitions etc.
And they will associate you with an uplifting, positive feeling.

The touching emotions and the positive mood will also transfer to your company image in public.

And you know by experience or selling seminars, that it's not arguments, but mood that sell.

You also do something good in supporting the artist Miguel Garcia with your sponsorship.
Offer
I believe that this video will provide a perfect platform for a sponsor and partner.
This film is something I will make anyway. The film will reach at least 100,000 people and maybe many, many more – and will make them feel good, hopeful and happy.
By telling people something good about you – for instance of your sustainability and business ethics your presence as a sponsor be a real benefit for your company.
The total cost of this film will be in the region of 5500 Euros. Ideally I am looking for one sponsor. But this cost could be shared between several businesses.  
About me
It might be of interest for you to know a little bit of who I am. So you have a whole picture of the film project. Let me introduce myself:
I have a qualifications and work experience in film AND marketing:
I have worked as a film producer and freelance filmmaker for almost 10 years now.
I also have several years of experience being responsible for the marketing and public relations of small and large businesses.

I understand the requirements of the Marketing and Communication of a successful business.
I was trained in the craft of film production from the ground up in HOLLYWOOD and the Defa Filmstudio Babelsberg / Germany.

This enables me to make films in an efficient, structured and yet artistic way (for my customers).
I completed a Master degree in communication and film studies at the Freie Universität Berlin and I was rewarded a stipend to study at the University of California, Los Angeles –

The knowledge of the theoretical background is the basis for my creative and contemporary work.
More on my website: German language www.oneminute-pr.de
Short version English language:www.oneminute-pr.de/english-summary/
If you understand this great chance of unique advertising – just call / WhatsApp or email me: Diane: +4915227682210 / dg@1minute-pr.de.
Join our Facebook Group
https://www.facebook.com/groups/JaveaFireStories/
Do the fires in Australia bring back memories of the terrible events in Javea a few years ago when our whole town seemed to be ablaze? This was a huge catastrophe yet for some people something positive occurred. Something that made them stronger. Maybe you have painful memories and thoughts.Maybe you found new friends and experienced the kindness of your neighbors or even strangers.
This is a place to share your stories – to see how the other people of the community handled the challenge and to say thank you to the brave volunteers and friends who helped to keep us safe.